Singapore Projects - Sime Darby
Singapore Projects - Building Cracked Wall
Singapore Projects - Coating of Roof for Private House

Singapore Projects - Coating of Roof for Industrial Factory

Singapore Projects - Coating of Concrete Roof for HDB Flat

Singapore Projects - Coating of Polycarbonate Roof

Singapore Projects - Coating of Wall for Kuo Chuan Presbyterian Secondary School

Malaysia Projects - Cyber Lodge at Zon Flagship Cyber Jaya
Malaysia Projects - National Palace
Malaysia Projects - Quill Capital Concrete Flat Roof at KL

Malaysia Projects - Pantai Hospital Ampang
Malaysia Projects - Coating of Roof for Toyota Show Room at Penang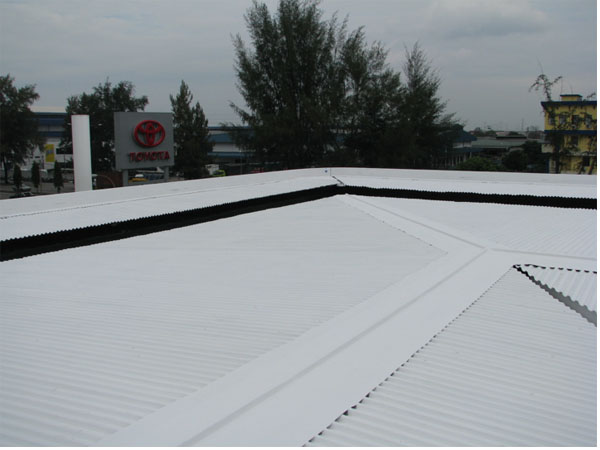 Malaysia Projects - Coating of Roof for Toyota Show Room at Kuching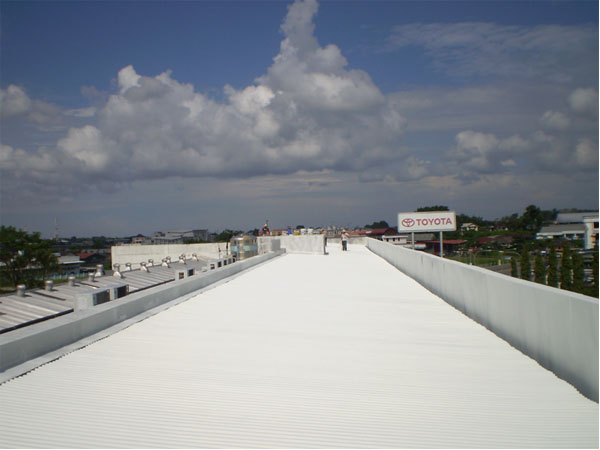 Malaysia Projects - Coating of Hard Rock Hotel at Penang

Malaysia Project - Cerian Keria

Malaysia Project - Bungalow at Sunway Damansara

Malaysia Projects - Customized Brown Coating for The Mines, New Water

Malaysia Projects - Customized Red Coating for Private Residential Estate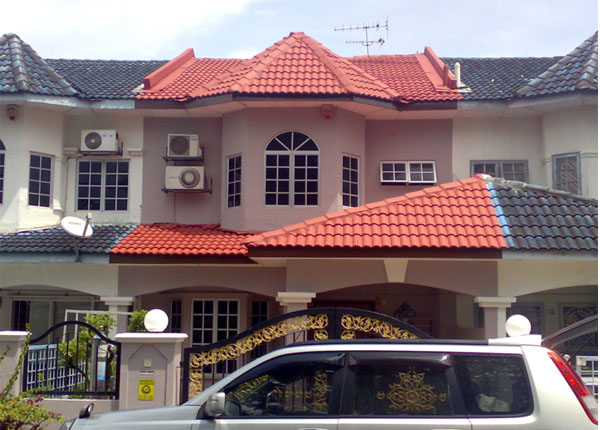 Malaysia Projects - Sunway Rymba Hill

Brunei Projects - PMO Surau Project
Qatar Projects - Anglican Church at Doha
Qatar Projects - Jotun Warehouse at Doha

Environmental Friendly Label:
Thermal Conductivity Test - Conducted by PSB Singapore:

Result: K-Value: 0.01888 W/mºK
In-House Elongation Test:
Result: Elongation at Break (>300%)
All in ONE solution with Greenshield 108

Temperature Test Under Sun with Thermometer for Metal Roof:

ADVANTAGES
Heat reflection thus SAVING energy and electricity bills i.e. reduce air conditioner usage and prevent global warming.

Waterproofing protection.

Self-seals any hairline cracks.

Eco friendly product thus is safe for usage and helps in environmental protection.

Ultraviolet resistant.

Good elongation.

Good adhesion to variable substrates.

Non toxic and solvent free.

Aesthetically pleasing colour options.

Longer potential life-cycle due to less polymer degradation and thermal expansion due to lower temperature.

Cooler to the touch for better ergonomics.

Applied as is just like painting.

Long-lasting protection against algae, fungus and mould.

Excellent elasticity, durable and able to retain elasticity for many years.

Able to absorb thermal shock and vibration.

Excellent dirt pick-up resistance.

Ease of Application - Brush, roller or airless spray applied.



MULTI-COLOURS HEAT REFLECTOR:
Greenshield 108 has many standard colours and colour shades which utilise a combination of IR-reflective pigments. This will exhibit a greater Total Solar Reflectance (TSR) than the exact same colour made with conventional pigments. Total Solar Reflectance (TSR) actually describes how much of the sun's energy an object reflects.

When Greenshield 108 is applied on the surface, it helps to minimize the effects of the sun and improved the overall durability of the coatings as Greenshield 108 is a special weatherable formulation which can withstand the highest level of heat and chemical resistance over the years without significant degradation. This gives a long lasting effect, as its minute heat shield cells with infrared reflective pigment allows buildings to remain cool under the sun. Darker colours will give lower reflectivity only.
USES
Heat reflective & waterproof coating for :
metal, clay or cement tile roof

old & new metal roofing sheets

old & new concrete roofs

concrete flat roofs

Polycarbonate roofing sheets

all kinds of wall

container office
Application for Greenshield 108