Endorsement - Ministry of Energy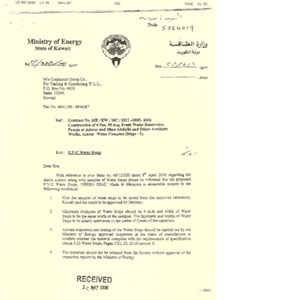 PVC Waterstop - Test Report (BS2571/63 Class I-A3)
GS PVC Waterstop Wide Range (Internal Joints)

GS PVC Waterstop Wide Range (External Joints)
ADVANTAGES
A full range of profiles and sizes to suit all construction requirements.

Factory made intersections to simplify and minimize on site fabrication.

Greenseal PVC Waterstops conform to all relevant standards.

On-site welding equipment available.

Brass Eyelets are punched into outer flanges for easy wire typing to reinforcement on our internal profiles.
USES
Water Retaining

Sewage Treatment Plant

Water Treatment Plants

Swimming Pools

Reservoirs

Dams and Spillways

Water Excluding

Basement Areas

Underground Car Parks

Tunnels

Retaining Walls

Suspended Slabs

Pits

Roof Slabs
Installation

Installation (Wall)
Installation (Slab)

The PVC Waterstop Welding Blade
How it is installed between the joints?

Where to place it?